OVERVIEW
Disinfection Services
What's going on here?
Cleaning is a significant initial step since it truly eliminates earth, natural issue, and most germs from surfaces, however, doesn't devastate some destructive germs that may remain. All surfaces should be altogether cleaned before cleansing. This guarantees that germs are not hidden away from the disinfectant when it is applied. Our home disinfection services team ensures a healthy and clean environment for you.
For what reason is it significant?
Incessant cleaning and sanitization assists with forestalling the spread of germs that may cause ailment.
Cleansing is the cycle that pulverizes most infection-causing germs that stay on surfaces.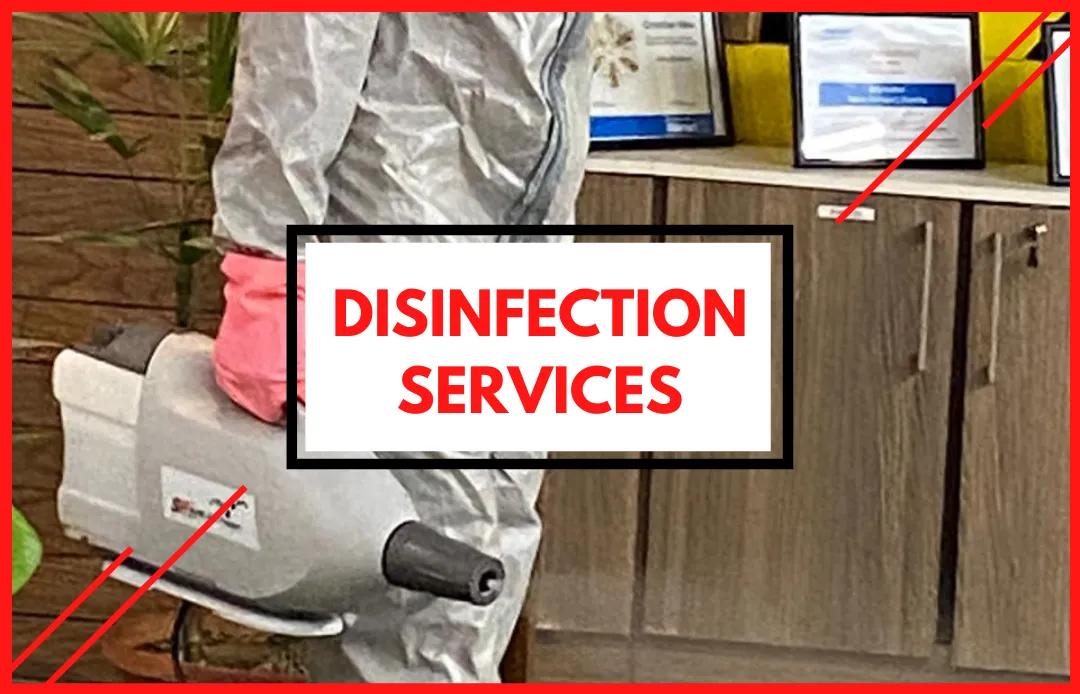 How regularly would it be advisable for it to be finished?
Regularly - for as often as possible contacted surfaces; shared surfaces/things.
All the more frequently - when ailment levels have expanded.
Quickly - when surfaces are tainted with blood or body liquids
How Do Home Disinfection Treatments Work?
Our home disinfection services use an item that is a concentrated disinfectant, sanitizer, and viroid. It kills a wide assortment of infections, microbes, and parasites, guarding you against the hazardous illnesses they cause. Our item is detailed to deal with hard non-permeable surfaces, for example, plastic, metal, glass, tempered steel, and different materials that are regular in homes and organizations. Notwithstanding purifying, it additionally freshens up zones influenced by smell causing microscopic organisms, abandoning a light citrus fragrance rather than a hostile substance smell. As experts, we know where and the amount to apply with the right hardware. Our germ control administration can be a one-time administration or we can come consistently.
"American Fumigation Service" is at your administration on these essential occasions, assisting you with excursions to shield yourself from destructive infections. To oblige our clients in the most ideal manner we are offering home disinfection services at the most reasonable rates, making it simple on your pockets.
With the extended of infections and microscopic organisms, wellbeing concerns are developing among individuals. Everybody is stressed over the clean conditions around them in light of the fact that excusing routine life perpetually is incomprehensible. In this manner, a large portion of us invests most of the energy, venturing out from office to home, working in workplaces, which opens us to 'not all that clean' conditions. It does not just leave you in the danger of wellbeing concerns, however, these things likewise will in general trade-off the effectiveness of organizations.
In opposition to the assumption, the dangers of contamination are developing instead of declining, even in regular day-to-day existence. All things considered, who can make a qualification among tidiness and cleanliness? The present circumstance is additionally compounded by the developing number of people who are defenseless to diseases. In the event that one needs to battle irresistible illnesses in a financially doable and predictable way, public help should be looked for. Thus, the general population reserve the privilege to be educated in an appropriate and mindful way. The contrast between "earth" and "defilement" should be featured indeed.
With the current flare-up of COVID-19, often cleaning and sterilizing your house is fundamental for keeping yourself and your family protected and solid. Leave your work on us and you'll see for yourself, our home disinfection service will definitely lend a helping hand in these difficult times.
Why is sanitizing your office and home so significant?
Tidiness and cleanliness have consistently been basic, yet considering the COVID-19 pandemic that is right now occurring, it is a higher priority than any time in recent memory to keep your home and office sanitized and liberated from hurtful microscopic organisms and infections.
Here are the reasons why it is significant:
Germs and infections are all over the place:
As of now, you are needed to do your day by day movement like working and learning at home, however, would you say you are mindful that the things that you frequently contact at home can have germs and infections? The examination says that the current COVID can last as long as 5 days. That is the reason customary cleaning is never enough to slaughter hurtful infections.
Same as the workplace, despite the fact that you have left the workplace for quite a while, yet there are still at least thousands of infections and germs that stay inside. The console is one of the workplace devices that you contact frequently, it has more than 9000 germs for every square inch where typical cleaning is rarely enough. Sterilize your office to guarantee that the workplace is protected from infections and germs. Book our home disinfection services for your home where you can murder 99.9% of infections and germs.
Spots you sit and lay are undependable!
Texture based things can be effortlessly found at home and in the workplace. Work seats or couches, for instance, both of these things can be home to a large number of infections and germs that can cause sensitivities whenever left immaculate. Notwithstanding the cleaning and safety measures ventures from the infection, you can book a couch cleaning and sleeping cushion cleaning administration to clean the two things altogether. With our home disinfection services, you can get rid of all the hidden germs in your surroundings.
Germs and infections are difficult to dispense with:
Germs are microorganisms that are difficult to execute. The study says that even in freezing temperatures, germs can't be slaughtered. They are additionally ready to move effectively starting with one spot then onto the next through your hands and can cause harming or influence your absorption. Accordingly, by purifying your home and office, you can dispense with 99.9% of germs.
Sanitizing your Home
It is imperative to appropriately spotless and sanitizes the surfaces in our homes. Germs additionally called "microorganisms" can make us debilitated. They live on numerous surfaces and can taint food, utensils, and different items that we use to plan and eat our food with.
Tidiness in the kitchen starts BEFORE you begin to plan food. All that comes into contact with your hands or food should be completely cleaned and sterilized. This incorporates dishes, cutlery, utensils, pots and skillet, ledges, cutting sheets just as kitchen materials, spigots, can opener edges, and fridge handles. Destructive microscopic organisms that are not noticeable may flourish and increase in food that is set up by messy hands in a messy kitchen in this way, prior to planning food, get off to a new beginning. Cleanliness and hygiene come first.
For the wellbeing and security of everyone around you:
There is right now a worldwide spotlight on having a home and workspaces routinely purified to eliminate any infections or microorganisms that might be available.
Remembering this, AMERICAN FUMIGATION SERVICES has perceived the requirement for an expert, yet moderate cleansing help in Pakistan.
AMERICAN FUMIGATIONS home disinfection services will guarantee an infection or microscopic organisms present in your home or office is killed. Notwithstanding, we do exhort normal sterilization (at any rate, at regular intervals) to guarantee any infection or microorganisms brought into the home or office from outer sources is killed before it can make any actual damage to you or everyone around you.
This is the reason our cleansing assistance is given at a moderate cost - so you can rest safe knowing your home or office can be consistently purified at a rate that accommodates your financial plan.
The Difference between Cleaning and Disinfecting
Note that cleaning a surface – basically eliminating soil and particles – isn't something very similar to sanitizing it to slaughter infections and microorganisms.
There are numerous items you can use to clean hard surfaces, as sudsy water and vinegar. And keeping in mind that cleaning high-traffic surfaces to eliminate foreign substances, residue and garbage is a fundamental advance of cleaning your home, you actually need to purify those surfaces from the novel Covid. Our home disinfection services team will for sure not disappoint you with their work.
Cleaning Against Viruses:
You don't have to clean your home through and through every day, except you should zero in on purifying the territories that are problem areas for germs. These are the main things to purify each day:
Pantry and cabinet handles/pulls
Fixtures
Kitchen and washroom counters
Latrines, particularly the seat and handle
Fridge, dishwasher, stove and microwave handles
Controllers and game regulators
Phones, tablets and other cell phones
PC consoles and mice
Door handles/handles
Table surfaces
Flight of stairs railings
Light switches/switch plates
AMERICAN FUMIGATION SERVICES is the main organization in Pakistan. At AMERICAN FUMIGATION, we highly esteem dealing with our staff and clients like individuals from our family, and due to this way of thinking, we've become a confided in an asset in our locale. We at American Fumigation feel a commitment to give the most flawlessly awesome potential administrations to our clients at a reasonable cost.
Here is something we've focused on carry an incentive to neighborhood inhabitants:
All-day, every day Service
Confirmed Staff
Savvy Solutions
Conscious and Professional
Ensured Results
Supportive of Active Customer Care
CONCLUSION:
Give a sans germ climate to your family and representatives, particularly during this worldwide pandemic flare-up. We are focused on causing you remain protected at home and get your business in the groove again by loaning you a hand during the lockdown, book our home disinfection services now so you can remain coordinated and effortless from any germs and infections.
---
American Fumigation
Related Services